1981 PIPER SENECA III
Reg # N8375N
$154,500
1981 Piper Seneca III – 6179 TT, 953 / 203 SMOH, King KFC-200 Flight Director Autopilot, King Slaved HSI, KLN-89B GPS, Appareo Stratus ADS-B Transponder, WX-10A Stormscope, LoPresti Nose Bowls, Merlyn Wastegates, Factory Oxygen, Known-Ice, Club Seating!

Airframe:
Total Time: 6,179

Engines:
953 Hours Since SMOH by Signature Engines – (LH)
203 Hours Since SMOH by Penn Yan Aero – (RH)

Props:
12 Hours LH Propeller Since Propeller OH – (LH)
203 Hours RH Propeller Since Propeller OH – (RH)
• King KFC-200 Flight Director Autopilot Featuring Altitude Hold
• King KCS-55A Slaved HSI
• King KMA-24 Audio Panel Featuring 3 Light Marker Beacons
• King KLN-89B GPS
• Dual King KY-197 Coms – (Both displays are showing wear)
• King KNS-80 Nav – (#1)
• King KN-53 Nav – (#2)
• King KI-208 VOR Indicator – (#2)
• King KR-87 ADF Featuring Dual Flight Timers
• Appareo Stratus ESG Transponder (ADS-B Out)
• WX-10A Stormscope
• Dual Push to Talk Switches – (Yoke Mounted)
• Control Wheel Steering – (Pilot Yoke)
• Auto Pilot Disconnect – (Pilot Yoke)
• PS Engineering PM1000-1000 Four Place Intercom
• Electric Trim
• White featuring Hickory Brown, Baja Yellow, and Ocala Orange Accents.
• Aircraft is kept in a hanger when not utilized.
• Dark Cedar Velour featuring Harmonizing Side Panels.
• Club Seating feature Deluxe Headrests.
• Deluxe Refreshment Bar featuring Cup Holders.
• Avionics Master Switch
• Alternate Static Source
• Adjustable Crew Seats
• Heated Pitot
• Side Window Curtains
• Stratus USB Charging Ports
• Outside Air Temperature
• Nose Baggage Door
• Auxiliary Power Receptacle
• Heated Pitot
• Wing Tip Strobes
• Vertical Fin Mounted Beacon
• Hobbs Meter
• Tinted Windows
• Fire Extinguisher
ANNUAL DUE: June 1, 2021

BI-ANNUAL IFR CHECKS DUE: April 1, 2021

OXYGEN BOTTLE HYDRO TEST DUE: April 1, 2025

USEFUL LOAD: 1536.33 Pounds

REPAIR HISTORY NOTATIONS

• The RH Engine had a propeller strike when the aircraft veered off the taxi way – (See June 15, 2015 Log Entries)
• The RH Trailing Edge Aileron Skin was replaced – (See 337 dated March 14, 2014)
• The LH Engine had a Propeller Strike – (See December 1, 1998 Log Entries)
• The LH Main Gear Collapsed after landing - (See 337 and Log Entries dated January 25, 1988 / Also see Ferry Flight Log Entry dated September 16, 1987)
• The RH trailing edge stabilator skin was replaced - (See 337 dated November 3, 1986)


Specifications are Subject to Verification upon the Buyer's Inspection of the Aircraft. Optional aircraft transition flight training solutions are available. We accept trades and offer a variety of low fixed rate interest rate financing solutions up to 20 years.

Bartelt Aviation does not endorse nor are we affiliated with Currency Finance, Avemco, or the Aircraft Cost Calculator that may be attached to our aircraft online sales ads. Bartelt Aviation has the ability to refer you to an Aircraft Lender and an Insurance Agent that should be able to provide you with lower cost options and superior customer service. Ask your Bartelt Aviation sales person for details.
Modifications / Conversions
SUPER FEATURES

• Known-Ice Package Featuring De-Ice Boots and Hot Windshield Plate
• Factory Oxygen
• Merlyn Products Black Magic Wastegates
• Wing Tip Stroke Landing Lights
• Davtron Digital Clock on Pilot Yoke – (INOP)
• LoPresti Nose Bowls Speed Enhancement
• Bracket Air Filter
• The Wing and Stabilator De-Ice Boots were installed in 2006
• C&D Model CD45K Cabin Heater Upgrade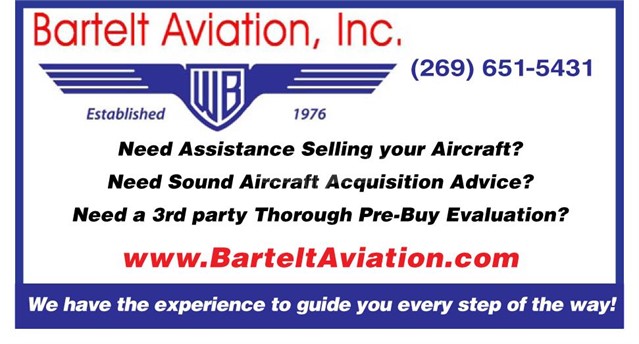 Bartelt Aviation, Inc
Sturgis,MI
Tell the dealer you saw this ad on
AircraftDealer.com