1978 PIPER TURBO ARROW III
Reg # N3514M
$144,900
Super low time Turbo Arrow III, NDH, GTN-650, GNS-430, Dual G5's, STEC 55X AP, JPI 830, Aera 660 yoke-mounted GPS, GTX-345, Flightstream 510, Strikefinder, Merlyn Wastegate Controller, Tanis Engine Pre-heater, recent interior, and more. Must see.
AIRFRAME
Total Time
2,186
Range
695 NM
Max Takeoff Weight
2,900 lb
Basic Empty Weight
1,863 lb
Useful Load
1,037 lb
Fuel Capacity Volume
72 gal
Airframe Notes
2,186 Hours Total Time Since New
ENGINE
Engine 1 Make/Model
CONTINENTAL TSIO360F
Engine Serial Number
305624
Engine Horsepower
200 HP
Engine 1 Time
1,097 SMOH
Engine Time Remaining To Overhaul
303
Engine Time Between Overhaul
1,400
Turbocharged
Yes
Engine Notes
1,097 hours since Major Overhaul by Custom Airmotive, Inc. of Tulsa, OK (FAA CRS # DC2R763K) (This is the original engine installed on the aircraft at the factory when it was new.) Overhauled at 1,089 hours total time. Make: Continental / Model: TSIO-360-F / Serial # 305624
PROPS
Prop Manufacturer
HARTZELL
Prop Model
HC-C2YF-1BF
Prop Overhaul Time
667
Number of Blades
2
Blade Composition
Aluminum
Prop Notes
667 hours since Overhaul on Two-Blade Constant-Speed Prop by Aircraft Propeller Service, Inc. (FAA CRS # 2377) Make: Hartzell / Model: HC-C2YF-1BF / Serial : AM1900
MODIFICATIONS/CONVERSIONS
Modifications/Conversions
Merlyn Turbocharger Wastegate Controller (STC # SE4371NM)
AVIONICS
Flight Deck Manufacturer/Model
GARMIN G5
Multi-Function Display 1 Manufacturer/Model
GARMIN G5
GPS 1 Manufacturer/Model
GARMIN GTN 650
GPS 2 Manufacturer/Model
GARMIN GNS430
Transponder 1 Manufacturer/Model
GARMIN GTX345
Autopilot Manufacturer/Model
S-TEC SYSTEM 55X
ADS-B Equipped
Yes
WAAS
Yes
LPV
Yes
Terrain Warning System
Yes
Avionics/Radios
Garmin GMA-340 Audio Panel w/ 3-Light Marker Beacons & 4-Place Stereo Intercom
Garmin GTN-650 Touchscreen WAAS-IFR-Approach-Certified GPS-Com w/ ILS & LPV coupled to G5 HSI
Garmin GNS-430 IFR-Approach-Certified GPS-Com w/ ILS & Color Moving Map (GI-106A CDI)
Garmin G5 EFIS Attitude Indicator w/ Altimeter, VSI & Air Speed Ind.
Garmin G5 EFIS DG/HSI (removed vacuum system)
Garmin Aera 660 Touchscreen GPS w/ Moving Map hard-wired, mounted to Pilot's Yoke
Garmin Flightstream 510 (Bluetooths your active flightplan to your iPad)
Insight 2000 Strikefinder Stormscope
Garmin GTX345 Digital Bluetooth Transponder w/ ADS-B IN & OUT (FIS-B Weather & TIS-B Traffic Info)
STEC 55X Fully coupled Autopilot w/ Hdg & Nav Tracking, GPSS Steering, Vertical Speed Mode, Approach Mode, Glideslope Coupling, Altitude Hold, & Control Wheel Steering (CWS)
ADDITIONAL EQUIPMENT
Additional Equipment
Merlyn Automatic Turbocharger Wastegate Controller (STC # SE4371NM)
JPI EDM-830 Digital Graphic Engine Analyzer w/ Digital Fuel Flow Transducer (STC # SA00432SE & SA2586NM)
Tanis Engine Pre-Heater
'Traffic Alert' Mute Switch
Electric Pitch Trim
Rudder Trim
Electric Turn Coordinator
Fuel Capacity = 72 Gallons
'Low Voltage' Warning Light
'Low Vacuum' Warning Light
'Low Oil Pressure' Warning Light
'Turbo Overboost' Warning Light
'Stall Warning' Light
Wingtip Strobe Lights
Beacon Strobe Light
Pilot's Left Hand 'Kool Scoop' Wing Window
M800 Digital Chronometer
Articulating Pilot & Co-Pilot Seats w/ Headrests Articulating Rear Seats w/ Headrests
Dual Push-to-Talk Switches
Lower Sidewall Mounted Adjustable Air Vents
Emergency Landing Gear Extension System
12V Aux Power Supply (Cig Lighter)
Hat Rack
Large Aft Baggage Compartment w/ Baggage Door
Suction Gauge
Outside Air Temperature Gauge
Cabin Air Ventilation Fan with Overhead Fresh Air Vents
Pilot & Co-Pilot Shoulder Harnesses
Dual Push-to-Talk Switches
Avionics Master Switch
Autopilot Master Switch
Tinted Sunvisors
Rear Window Curtains
Remote ELT
Overhead Flood Lighting
Useful Load = 1,037 lbs.
EXTERIOR
Year Painted
1978
Exterior Notes
Matterhorn White base with Lime Green Metallic, Polynesian Gold Metallic, and Las Vegas Gold Metallic accent striping. Factory original paint in good condition! Glass is in excellent condition. Always hangared since new. Rated - 6+.
INTERIOR
Year Interior
2015
Number of Seats
4
Configuration
Passenger
Interior Notes
Light Beige seats with high-quality Light Beige fabric inserts. Matching Airtex Light Beige sidepanels. Beige carpeting. Off-White interior door window & window trim. White headliner. Rated 8+.
INSPECTION STATUS
Inspection Status
Annual Inspection next due: February 1, 2023.
No Known or Documented Damage History.
Logs Status: Logs 1987 to present. * - This aircraft was sold new by the Iowa City Flying Service, a Piper Dealer, and has been based and hangared at this same airport since new until 2016. It has been hangared in northeast Oklahoma from 2016 to 2022. The aircraft was seized by the U.S. Dept of Treasury in 1985, however, the gov't released the aircraft back to the owner in 1987, at which time it was determined that the gov't had lost the original logbooks. The owner did, however, have numerous original maintenance invoices, engine and prop overhaul invoices, etc., dating all the way back to 1981. The airframe total time was were verified as accurate by the personnel that had been maintaining the aircraft. Very clean airframe with no corrosion issues.
Work completed during January 2022 annual inspection: • Engine mount overhauled • Engine cylinder #1 replaced with overhauled stud assembly with new piston and pin • Throttle cable replaced with new • Heater air hoses replaced in engine compartment • Engine cowl interior painted • Nose gear assembly repainted • Exhaust gaskets replaced • New windshields installed • Sun visor mount clips replaced • Push rod tubes resealed replaced tubes cylinder #1,2,3,6. • Resealed main landing gear struts • Replaced brake linings • Resealed brake wheel cylinders • Replaced right brake backing plate • AD 20-26-16 wing spar complied with • AD 13-02-13 elevator control cables complied with.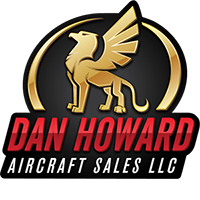 Dan Howard Aircraft Sales LLC
Tulsa,OK
Tell the dealer you saw this ad on
AircraftDealer.com