Inactive Ad
---
The ad you requested is no longer active, however you may be interested in some of the following Piper Super Cub ads:
displayAdsHomeRecent
---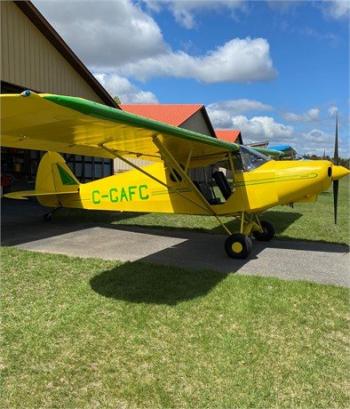 1947 PIPER PA-12-160HP FLOATPLANE, TT 4660, SMOH 1330 FACTORY NEW, SPOH 407 hrs since new, PA-18 GEAR EXTENDED 3", 1 1/4" AXLES BY ATLEE DODGE SA148SL, CLEVELAND 40-60 WHEELS AND 30-60 BRAKES, PIPER SERVICE KIT 761-081, SCOTT 3200 TAILWHEEL, 800 x 6 TIRES, CANADIAN / SOLD FOB DEER LAKE, NL., **CONTACT OWNER BING ** LEFT HAND DOOR: STC KENMORE AIR HARBOR, DRAWING K-105 & K106 0-320 LYC. 150 hp...
...more
.
NEW HORIZON MICROTECHNA (AIRBATIC), TRIG 8,33, KING TRANSPONDER S, "SPITFIRE" STARTER BUTTON, NEW TIRES – DISK BRAKES, METAL AILERON AND FLAPS, NEW EXHAUST, TOW COUPLING, NEW BUNGIEES, ENGINE <500H SMOH, TTAF 3860 POLYFIBER COVER & NEW PAINT 2017, PROP IN GOOD CONDITION, NORMAL CATEGORY, ALWAYS HANGARED, RUNS ON MOGAS 98 OCT. 25L/H CRUISE. AIRCRAFT BASED IN PORTUGAL. $99,000...
...more
. Are you looking for a super fun Piper Super Cub with 180 horses, squawk free and ready for a blast? Here it is! It is in excellent condition throughout. Complete overhaul and restoration with new fabric covers throughout the upgrade. All squawks and issues have been solved. Just jump in, preflight, and fly. Piper PA-18 with the 180 engine are rare and so much fun. Airframe Details: The PA-18 f...
...more
.