2020 SOCATA TBM 940
Reg # N940DT
Inquire
Loan Calculator here...
Close
2020 TBM 940 Elite Edition, Pilot Door Equipped - Coming In March - Fly it Home from the Factory! Crafted for Aviators, the 2020 TBM 940 features the Garmin's G3000 NXi, Auto Throttle and Auto De-Ice and the TBM 940 will be among the first single engine turboprops to be equipped with the HomeSafe Emergency Auto-Land System.
Airframe:
Factory Delivery Time Only
Engines:
Factory Delivery Time Only
1 GMA 36B Audio controller with Bluetooth audio link and integrated marker beacon
receiver, intercom and public address capability
2 GDU 1250W 12'' WUXGA high resolution Primary Flight Displays
1 GDU 1250W 12'' WUXGA high resolution Multi-Function Display with engine,
pressurization, electrical, fuel, flaps and trims indication, Crew Alerting
System (CAS), aircraft synoptics and navigation mapping system.
2 GIA 64W Nav/Com/ILS/WAAS GPS
2 GEA 71B Engine and airframe interface unit
2 GRS 79 Attitude and Heading Reference System (AHRS)
2 GMU 44 triaxial magnetometer
2 GDC 72B digital air-data computers w/ dual probe system
1 GTX345 Mode S Extended Squitter Transponder #1 ADS-B in & out
2 GTC580 Tactile Controllers conveniently located on reclined section of panel
1 GMC 710 autopilot and autothrottle mode controller located in upper central panel
4 GSA 81 torque flight servos (yaw, pitch, pitch trim and roll)
1 GSA 87 Servo actuator for Autothrottle
1 GTA 82 adapter for yaw auto trim device
1 MD302 Back up Attitude, Airspeed, Altitude and Heading digital display with MD32 remote magnetometer
LPV, LNAV/VNAV (including Baro VNAV) approaches support and advisory vertical guidance for LP, LNAV and Visual approaches
e-Copilot:
ESP Electronic Stability and Underspeed Protection
AOA/Stall Indicator and Stick Shaker based on heated probe
Surface Watch for airport environment awareness
Auto-Ice protection system with ice detection sensor
LVL Level button for roll and roll attitude
EDM Emergency Descent Mode
Auto-Throttle for engine protection
1 Flightstream FS510 Bluetooth/WiFi allowing Tablet to Avionics secured exchange information channel
Voice Alert System
Airframe de-icing control panel
Inertial separator control
Parking brake control
Landing gear control panel
Electric generation controls and monitoring on overhead panel
Crew Alerting System displayed on GDU with dedicated master caution & warning alerts
Flight Data Recorder ° Digital Flight time hour Meter
Cabin temperature control (dual zone, with override capability)
Heated stall warning system ° 2 Bose Headsets
Digital chronometer displayed on GDU 1040s
Instrument panel lighting, CB dedicated switch lightning

Enhanced Operational Package:
RVSM data package
GRA 55 Radar Altimeter displayed on PFD's
TAWS-B, class B TAWS worldwide database
GTS 820 Traffic Advisory System (TAS) displayed on MFD and PFD inset map
KN 63 DME displayed on PFD's
Electric pitch and rudder trims on co-pilot control wheel
Co-pilot side map light and approach plate holder
WX 500 Stormscope displayable on all screens
GWX70 digital four color weather radar with Turbulence Detection and Ground Clutter Suppression and 10'' antenna
Gold or Brushed stainless trimming of individual fresh-air vents and reading light rings
Stunning 2020 TBM 940 Paint Scheme in Socata White over Payolle Blue with Albeille Black and Estagnous Silver Accents.
Elite Edition Interior in Blackfriars Scheme - Black Leather Seats with contrast stitching, White Sands Upper Side Panels, Black Ebony Lower Side Panels, Charcoal Black Carpeting and Flat Black Metal Trim.
° 2020 TBM 940 CARE PROGRAM : up to the Aircraft fifth (5th) Annual Inspection or up to 1,000 flight hours total time, whichever comes first, and assigned to the original first retail customer. CAMP computerized maintenance follow-up.
° Avionics System Warranty extension to 5 years*
° System Warranty extension to 5 years or 1,000 hours*
* see warranty documentation for specific details of coverage
Auto-Throttle
HomeSafe Emergency Auto-Land System (retrofittable at FAA/Transport Canada Certification)
GDL 69 A datalink XM/WX weather information and XM audio infotainment (US Coverage Only)
GTX 345 Extended Squitter Mode S Transponder (#2) ADS-B in & out
Chart view option for GDUs
One lower storage cabinet (left)
Synthetic Vision Technology displayed PFD's
GSR56 datalink with satphone through headsets and WX weather information (worldwide coverage - subscription required) Deluxe wood or carbon trim interior package on central upper panel, table and face of cabinets – Polished Side Seat Beam
Tech Pub services included: Pilot's Operating Handbook hard copy with revision service, Check-list with revision service, MyTBMDoc app with automatic sync service
Jeppesen data bases – One year subscription (Americas or International) includes NavData, Safe Taxi, Obstacles, Terrain, Airport Directory, Chart View
Garmin's Pilot's guide and Cockpit reference guide in hard copies
Two Training Vouchers for factory authorized training at Simcom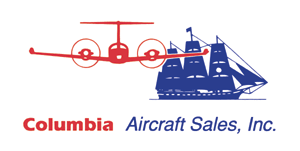 Columbia Aircraft Sales, Inc.
Groton-New London Airport