Inactive Ad
---
The ad you requested is no longer active, however you may be interested in some of the following Vans RV-8 ads:
displayAdsHomeRecent
---
One of the most well kept and package RV-8's available in the country. Only 480 hours on airframe, engine and prop. Always hangered, this aircraft looks new inside and out. Built by a professional builder, Steve Raddatz, this aircraft has no damage history and can fly Day and Night VFR and IFR. This aircraft has 180-185HP and the capability with its extra tip tanks (25g) to fly anywhere in the Uni...
...more
.

2018 RV-8 41HOURS,VFR,UNPAINTED • $88,500 • FOR SALE BY PROUD OWNER • Electric flaps,& trims, Manual aileron trim, Adjustable rudder petals, Aft seat has rudder petals, throttle, and STICK controls, Canopy had a disfiguring bubble, removed part of canopy and replaced with Lexan and aluminum. Lycoming IO360 . Dynon6 for navigating the aircraft. VFR now, but can be made IFR easily.N6710Z has a...
...more
.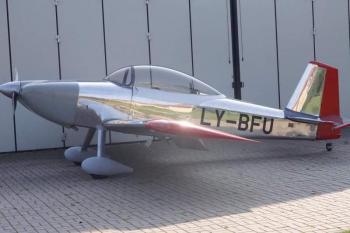 Looking for a fantastic RV-8. This aircraft is shippable to the United States and is the best aircraft available for the price I coudl find. It has beautiful black leather seats, almost no hours and beautiful exterior. We can ship to the United States and can walk you through the process to make this beauty yours. Airframe Details:Vans RV airframes are some of the best in the world. Engine(s) ...
...more
.