Diamond DA40 aircraft for sale
---
Own an aircraft where others help pay for your plane and you enjoy a tax write off! This plane is for sale as a leaseback at KROC! The economical price and leaseback produces the most affordable digital personal aircraft available on the market today. AIRFRAME · Performance Landing Gear kit with low profile wheel pants including access doors · 110 lbs weight increase · ...
...more
.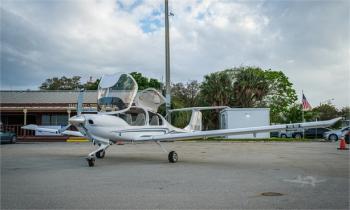 G1000; GTX 345R ADSB In /Out; GFC700; EXTENDED RANGE TANKS; Integrated GIA 63W WAAS LPV precision approach equipped; GDL69A; 12 volt auxiliary plug; Taws B terrain awareness; Synthetic Vision; Safe taxi; Tall Canopy; Amsafe seat belts; electrically adjustable rudder pedals; power flow tuned exhaust; three bladed constant speed prop; four way baggage compartment; performance landing gear; No damage...
...more
.
The DiamondShare™ Program Aircraft Ownership that "Makes the Dollars Make Sense™". Most pilots dream of buying their own aircraft so they can enjoy the freedom of flight and opportunity to go places in an airplane…their airplane. They dream of a different lifestyle and a means beyond the usual bounds – one with life changing potential and ability to conduct personal and business life...
...more
.