1980 BEECHCRAFT KING AIR B100
Reg # N123BL
Inquire
S/N: BE-83, 4814 TTSNEW, 5400 TBO, 379/1893 SMOH, 379/0 SHSI, All Logs, New Paint 03/2015, New Interior 06/2015.

Airframe:
Total Time: 4814 Hours SNEW
Logs Complete Since New
All Logs In English

Engines:
TPE-331-6-252B

Left Engine Serial Number: P-20036C
6823 TTSNEW
379 SMOH
379 SHSI
5400 TBO

Right Engine Serial Number: P-27150
5434 TTSNEW
1893 SMOH
0 SHSI
5400 TBO

Props:
Hartzell HC-B4TN-5 Four Blade Props

Left Prop Serial Number EAA-1547
0 SOH 02/2017

Right Prop Serial Number EAA-1728
0 SOH 07/2016
RMI: Dual Collins RMI-30
ADF: Collins ADF-60A w/Single CTL-62 Control
DME: Dual Collins DME-42 w/IND-42A Indicator
Compass System: Dual Collins MCS-65
Encoding Altimeters: #1 Collins ALT-80A #2 Collins ALT-80A
Overall Matterhorn White and Cream with Black and Gold Accent Stripes. New on 03/2015.
Cabin: Executive non-smoking configured. Pilot/Copilot under-seat map cases and two compartment chart cases. Forward and aft partitions with privacy doors. Forward LS Pyramid cabinet with heated liquid dispenser, ice chest drawer, three storage drawers, overboard drain and pull-out work surface. Five lateral tracking chairs in aft club. Mid cabin Pyramid Cabinet with three storage drawers. Dual executive tables with leather table top inserts and over-table reading lights. Aft LS narrow pyramid cabinet with storage and large ice chest drawers. Aft RS magazine rack. Aft aisle facing belted flushing potty seat. Aft baggage half partition. Dual aft folding jump seats included, but not installed.

Interior Materials: Tan leather upholstery. IZIT leather vanilla headliner and window panels. White leather inset panels, rails, armrests and cockpit sidewalls. Windsor Mahogany Gloss Laminate cabinetry and working surfaces. Cream carpet. Cream seatbelts and harnesses. New on 06/2015.
Cleveland Nose Wheel
High Float Landing Gear
Engine Fire Detection and Extinguishing
77 Cubic Foot Oxygen System
Prop Sync
Dual KGS SPC-60A Inverters w/Failure Light
Flight Hour Meter
Lights: Dual Landing, Taxi, Dual Rotating Beacons, Wing Position/Strobe/Recognition, Tail Position/Strobe, Dual Ice, Logo.
Six Year Prop Overhauls C/W on
Six Year Landing Gear C/W on
New Fluid Carry Hoses C/W on
Lighted Edge Panels Overhauled on
New Brakes C/W on 03/2016
Phase 1Thru 4 Inspection C/W on 03/2016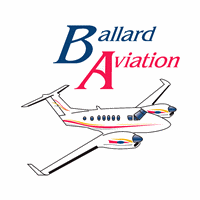 Ballard Aviation, Inc.
Newton,KS
Tell the dealer you saw this ad on
AircraftDealer.com