Piper Navajo / Chieftain / Mojave aircraft for sale
---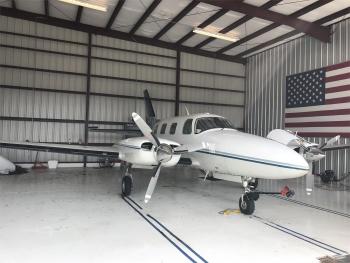 PA31P-350; Private or Business use airplane or excellent charter platform capable of long range travel in exceptional comfort. Known Ice, Pressurized, very easy to fly and economic to operate. Used as a personal aircraft by an Airline Pilot and his family for the last 10 years. Always hangered and easy to show. Extremely complete logs and historical docs. No damage History. Hard IFR capable. La...
...more
.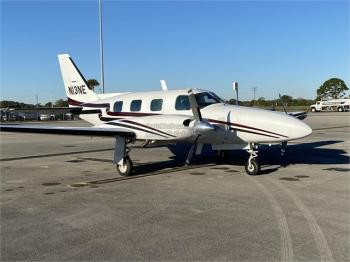 LOW TIME Mojave only 3732 TT Since New AF, 0/0 SMOH 154/154 New Props Garmin GTN 750 Touch Screen, GTX 345 ADSB in and out, Color Radar, King KFC200 AP/FD with Preselect, Fact Air Conditioning, Full Known Ice Package, Club Seating, Aft Potty, Pressurized Cabin Comfort Airframe: Total Time: 3732 Engines: Lycoming LTIO 540 V2AD Zero SMOH by Signature Engines Props: 154 Since NEW PROPS ...
...more
.
1981 PANTHER CHIEFTAIN; ONLY 6330 HOURS AND 0/0 SMOH! GARMIN G-600 W/SYN. VISION, KFC200, KICE, AIR. $395K *SUBJECT TO VERIFICATION & AVAILABILITY UPON INSPECTION* Airframe: Total Time: 6330 Engines: LEFT ENGINE SINCE OVERHAUL: (2/20) 0 HOURS RIGHT ENGINE SINCE OVERHAUL: (2/20) 0 HOURS P...
...more
.
A MUST TO SEE TO BELIEVE NAVAJO CHIEFTAIN PANTHER WITH FRESH FACTORY OVERHAULED ENGINES, NEW PANTHER CONVERSIONS 4 BLADED "Q" TIP PROPS, WINGLETS NEW REDESGINED NOSE BOWLS FOR BETTER COOLING, NEW STRAKES, NEW GEAR DOOR MODIFICATION, INCREDIBLE AVIONICS GLASS PANEL, INCREDIBLE PAINT & INTERIOR WITH DETAIL LIKE YOU HAVE NEVER SEEN, CREW & CARGO DOORS, INTERCOOLERS, FACTORY AIR-CONDITIONING, VG GROS...
...more
.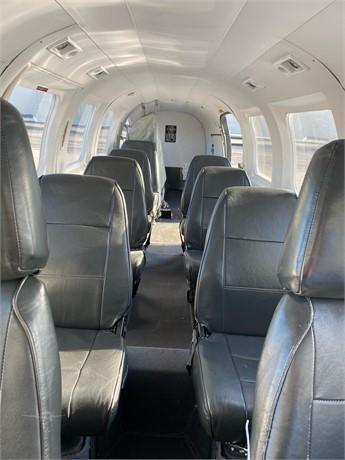 Buy with Confidence when you buy an airplane from the Navajo Experts! Pay now or Pay Later. Fresh Blueprint Engines. 3 Year Warranty! Fresh Annual by the Navajo Experts! All equipment and systems functioning as good or better as factory. A rare Navajo with a 9 seat configuration. Airframe: Total Time: 9,600 Engines: 0 SMOH by Blue Print Engines 3 Year Warranty Props: 0 SPOH...
...more
.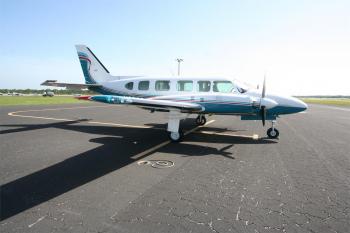 6747 Total Time 20/20 SFOH, 20/20SPOH's, Dual Garmin 600 PFD/MFDs, Dual GTN750 WAAS, Garmin GTX-345 ADSB In and Out, KFC200AP/FD/YD, Stunning Paint and Leather interior, Cargo Door, Digital Eng Monitors, BLR Gross weight VG Kits, Factory Ice, Air, and O2, Totally Refurbished LIKE NEW Condition Airframe: 6747 Total Time Since NEW Engine(s): 20 Hours Since Factory Overhaul RL-1370-68A LTIO-5...
...more
.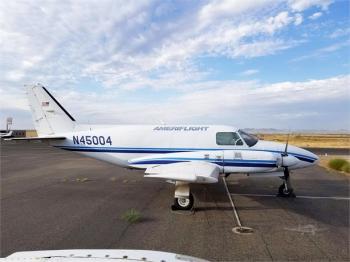 Cargo Configured. FASTProp DeIce. ADS-B. Multiple Aircraft Available. Airframe: Total Time Since New : 20,096.2 Hrs. Total Cycles Since New : 24,754.0 Date of Last Maintenance : 4/23/2019 Engines: Make/Model : LYCOMING TIO-540-J2B TBO : 2,100 Hrs. ENGINE 1 ENGINE 2 Serial Number : RL-5989-61A L-2542-68A Total Time : 6,786.2 6,911.9 Total Cycles : 6,809.0 7,574.0 ...
...more
.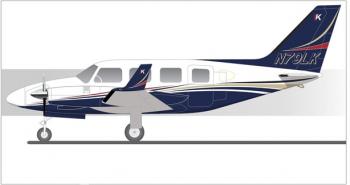 Coming Winter 2020 Another LOCK & KEY Navajo By Mike Jones Avionics and Maintenance Considering Purchasing a New Single or Twin Engine Aircraft? You Might Want To Consider The Ultimate Navajo!!! The LOCK & KEY Navajo by Mike Jones is a totally renovated Piper Navajo from nose to tail to Incredible Standards!!! It looks like, feels like, and flies like no other Navajo in the world!!! Order ...
...more
.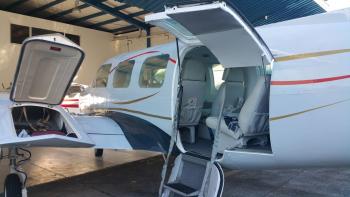 1979 Piper Navajo PA31-325/350 with Panther conversion for sale. New paint on July 2018 and new interior on September 2018. Fresh annual 04/27/2018. Located in La Isabela International Airport (MDJB), Santo Domingo, Dominican Republic. The owner is willing to fly to the US if the buyer is serious. N registered Aircraft. Airframe Details: Make & Model: PA-31-325/350 Panther TTAF: 3201 Engine...
...more
.
Cargo Door. Factory Air Conditioning. BLR Vortex Generators. Airframe: TTAF: 8802 Engines: Lycoming SMOH: 72/1402 Props: Hartzell TSOH: 639/639 Three Bladed Props...
...more
.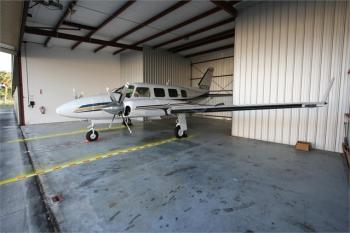 Colemill Panther Conversion (350HP) Gamin GNS-530 GPS/Com/Nav, GTX345 ADSB, Radar, Stormscope, Digital engine Monitor, Fuel Flow, Factory K-ICE, Air Conditioning, NEW Paint and Leather Interior, Wing Lockers, and More Airframe: Total Time: 6785 Engines: Engine 1: 766 SMOH 350 Horsepower per side Lycoming TIO-540-J2BD Colemill Panther Conversion Left Engine OH in 2007 Right Engien O...
...more
.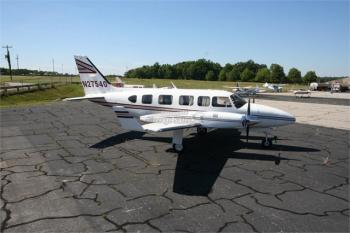 Panther Chieftain with only 778/778 SMOH on both Engines, Garmin GTN-750 Touchscreen, GNS-430W, GTX-345 ADSB (in&out) Color Radar, ASPEN Pro 1000 EFIS Display, Factory AIR and ICE, Super Clean Paint and Leather Interior, Hangared in South Carolina. Airframe: Total Time: 8990 Engines: Engine 1: Left Engine Right Engine Serial Number: L-1869-68A L-6661-61A TSOH: 802 802 Date of Overhau...
...more
.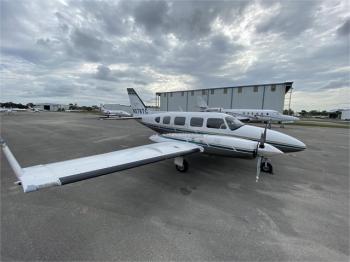 PANTHER CR with only 6591TT ZERO/237 SMOH 0/0 SPOH, Garmin 650 Touchscreen, GTX 345, ADSB in and out, Flight Max 750, STEC 55X Autopilot with Alt Preselect! Sharp Custom Paint and Leather, AC, Factory ICE Protection Airframe: Total Time: 6591 Engines: Time: 237/0 SMOH TBO: 1800/1800 Props: HC-C4YR-2 Four Blade Q Tip Props ZERO ON BOTH 2021...
...more
.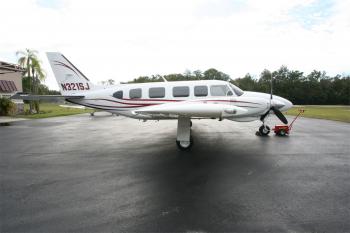 Super Low Time Chieftain !!! Only 3821 TT 78/89 SMOH, Dual Aspen Screen PFD/MFD, Garmin 530, ADSB in and Out, King KFC 200, Crew and Cargo doors, New Paint and Leather 2018, Air Conditioning, Intercooler, VG, Gross Weight Increase, LR Fuel System GREAT VALUE Airframe: 3821 Total Time Since NEW Engine(s): 78 SMOH Left engine 89 SMOH Right Engine Props: 892 SPOH 892 SPOH Both props are Fac...
...more
.